Hand Rehabilitation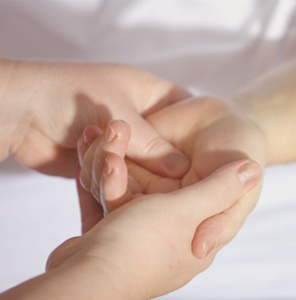 Hand Rehabilitation is the art and science of evaluating and treating injuries and conditions of the upper extremity (shoulder, arm, elbow, forearm, wrist and hand). It includes a number of therapeutic techniques and interventions to help a person return to their highest level of functioning.
The Hand therapist bridges the gap between medical management of upper extremity conditions to successful recovery, allowing patients to function normally in their daily lives. The therapist provides preventive therapy, non-invasive interventions (like splints) and post-surgical rehabilitation for a wide range of disorders of the upper limb, from simple fingertip injuries to complex replanted extremities.
Patients who are candidates for hand therapy include patients with accidents or traumatic conditions like fractures, crush injuries, tendon injuries, nerve injuries, re-constructive surgeries, ligament injuries, spinal cord injuries, burns, even patients with amputations of fingers, hand or arm, patients with inflammatory conditions such as tennis elbow, golfer's elbow, de quervains tenosynovitis, dupuytren's disease, trigger finger, tendonitis, patients with chronic conditions, such as arthritis, neurologic conditions such as stroke, carpal tunnel syndrome, neuropathies, RSD/ Shoulder-Hand syndrome, or congenital anomalies.
At Plexus the Hand therapy professional is an occupational therapist with the knowledge and experience to manage the challenging recovery of complex hand and upper extremity injuries. The therapist uses a variety of techniques and tools, including custom made orthotics, activity and exercise programs, management of post-surgical pain, swelling and tenderness and care of wound/scar.